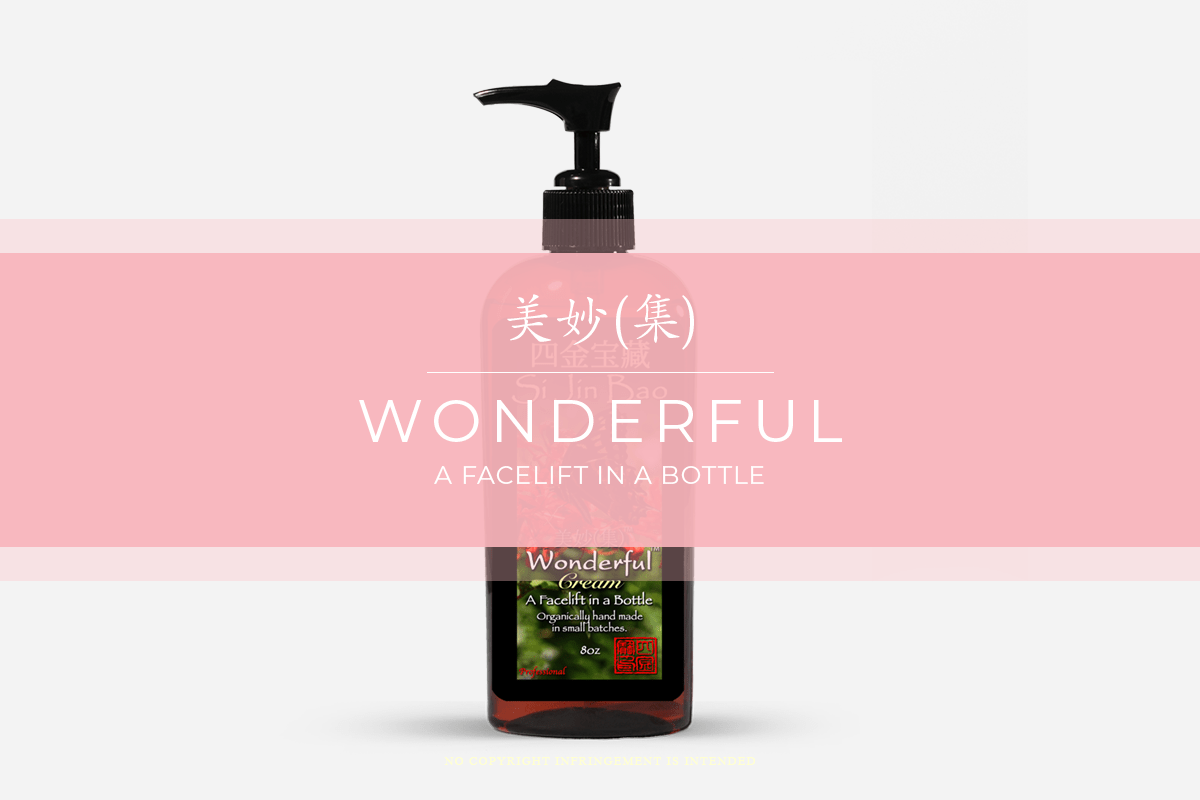 "A Face That Puts Flowers to Shame"
From empresses to farmers, the ancient China used herbs to keep their skin wonderfully flawless, radiant, and ageless.  Yang Guifei, a renowned beauty of the Tang dynasty (618 – 907 A.D.) and in Chinese history was known to have "a face that puts flowers to shame."
"Face and hand cream, clothing incense, and bathing beans are all essentials of nobles and officials," recorded 孙思邈 Sun Simiao, a famous physician of the Tang dynasty, in his text on Chinese medicine Treasured Prescription.
Such timeless traditions went on to survive centuries of modernization and are in demand now more than ever.
At Si Jin Bao we keep these ancient traditions alive and have been bringing the science of the ancients forward for over two decades.
Wonderful™: A Facelift in A Bottle​
One of our best sellers, a topical herbaceutical called Wonderful™ has been a favorite of our clientele since its introduction.  Wonderful™ is a part of Si Jin Bao's Ancient Chinese Medifacial Protocol and is known for its tagline, "facelift in a bottle"!
Using the principles of Traditional Chinese Herbal Medicine, our founder and Chief Herbaceutical Engineer created Wonderful for restoring the youthful appearance to skin. This unique formulation firms, tones, lifts, hydrates, promotes elasticity and reduces wrinkles and pore size.
Many professionals also include Wonderful™ in their Spa treatments. This product is known to increase and speed up the results as well as extend the effects of professional skin protocols.
In addition to its uses for facial rejuvenation, it has also been proven effective at lessening the appearance of excess dampness on the thighs, waist, hips, and chest area.
Unlike many of the skincare products available on the market, Wonderful™ has lasting effects. Most products only provide benefits as long as you continue their use. After a 90-day treatment cycle, the effects of Wonderful™ can last for long periods.
Users benefit from reduction of inflammation, promotion of regeneration and tone to the musculature.
Interested in more information on Wonderful™? View our complimentary Jia de Yisheng Home Medic Course on Wonderful™ presented by our Chief Herbaceutical Engineer here!