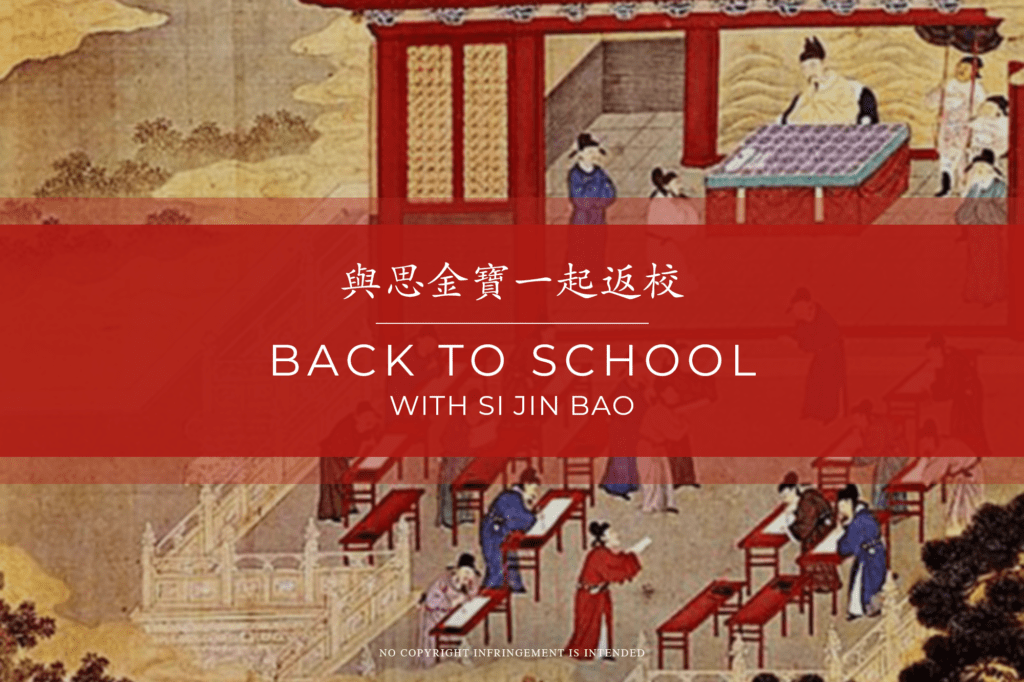 It's That Time Again, & Si Jin Bao is Here to Help!
In many parts of the Western Hemisphere it's "Back to School" time. If you follow the Ancient Chinese calendar you will also know that the solar term 立秋 Lì Qiū, translated as "autumn begins" has just commenced and is a transitional period of the year marking the change from summer to fall This is the PERFECT TIME to boost your Zheng Qi. "What is Zheng Qi?" you may be asking yourself.  It literally translates as "upright" qi in Chinese, and is the body's ability to resist disease and exogenous pathogens. Consider Zheng Qi to be your personal body guard protecting your internal life force from any outside intruders around the clock. You also might be wondering how that differs from the Western "immune system". In Traditional Chinese Medicine, Zheng Qi goes much deeper than just the immune system. It is the ability to recover after damaging influences, and to maintain balance in order to return to a normal state. It is adaptive, has a will to live, and survivability. Some call it a protective power. It is the body's strength and resistance. Why not do it effortlessly and with ease by using prevention?
Shields Up with Immun-A-Tea™
Back in early 2019 Si Jin Bao released Immun-A-TEA™, an all-natural, alcohol free, kid-friendly, and vegan internal decoction which has been helping families stay happy and healthy across the world. Immun-A-Tea™ is the perfect product to use to build Zheng Qi before heading back to school. Known for its tagline, 'Boost your Zheng Qi,' Immun-A-Tea™ promotes oxygen absorption, regulates respiration, promotes digestive function, regulates the immune system, regulates bowels and eliminates toxins.  Just like all of our products, Immun-A-Tea™ is kid tested and mom-approved. At Si Jin Bao we believe that giving your body the tools necessary to function efficiently and flawlessly will lead to balance and harmony within the body.
"We have been using IMMUN-A-TEA for over a year now to boost our immunity. It has worked great for our family. I have IBS and try to stay away from supplements due to how sensitive my system is and I find what works for most, does not work for me. None of us including my children had any side effects. It is great fo children who can't swallow capsules, sensory aversions to textures, and sensitive to tastes. You cannot taste this at all when mixed with liquid. It is also simple and convenient, only once per month for 3 days. We have not been sick in over a year now. Elderberry is great to boost immunity and kids respond to taking it in the gummy form. However, why take gummy junk every day when you only have to take the IMMUN-A-TEA once a month for 3 days? You cannot go wrong with the cost either as it is inexpensive!"
What Ways Can I Boost My Zheng Qi?
There are many simple and effective ways!  Get started now to ensure you are ready for the school year. Here are 5 just to get you going:
SLEEP Sleep allows the body to rest, recharge, and repair.  Did you know that it also reduces stress and increases mood?
EXERCISE  In Chinese Medicine exercise of the internal and external body is important.  In the West most people are not aware of the benefits of exercise for your internal organs.  Try Qigong or Dao Yin (like The Morning Workout Class from our friends over at OHO Seminars).
SUNLIGHT & FRESH AIR  Time spent outside helps to reduce stress, mental fatigue, and dis-ease.  It cleans our lungs, increases oxygen absorption, balances our hormones, and the list goes on.  Not to mention it increases our Hormone D levels and decreases cortisol in the blood.  Be sure to take nice long deep breaths while you are outside.
DRINK WATER  Water is vital for the everyday function of your body.  It is a solvent for chemical reactions, a transport material for nutrients and waste, allows for proper circulation, and regulates the body's temperature amongst a whole host of things.  Carry water with you so that you do not become dehydrated.
IMMUN-A-TEA™  Take the first 3 days of every month to boost your Zheng Qi, it's that EASY.
As we transition into 立秋 Lì Qiū, the days will still get hotter and hotter. It is very important to protect yourself from the increasing heat and make sure that you hydrate with water.
These cycles have been ebbing and flowing for the last 6,000 years, so this being the hottest point of the year is nothing new.
May you continue to balance and harmonize yourself as we transition from late summer to autumn.
-Dr. Kamal